Little Mountain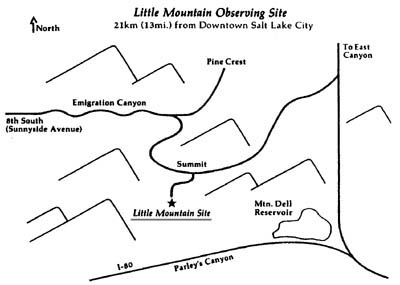 Click here for a printable version
The Little Mountain site at the top of Emigration Canyon, SLC.
Distance From SL: ~10 miles
Access: Summer and Autumn.
Facilities: None.
Directions: From Salt Lake City, go up emigration canyon about 8 miles to the summit. There is a gate on the right, go up the dirt road about .1 miles to the top. Dim headlights when reaching the top.

Copyright © 2012 Salt Lake Astronomical Society
This site best viewed with Internet Explorer
Contact Webmaster for any comments, additions or corrections